Kale and White Bean Soup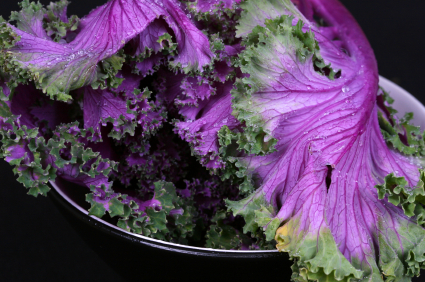 Kale is right up there with cabbage when it comes to great foods for the skin. So here is a delicious healthy skin recipe using kale – Kale & White Bean Soup. It takes 15 minutes to prepare.
Ingredients
2 tbs coconut oil
1 large onion
1 bunch kale (chopped)
1 can (15 oz) white beans
1 can (15 oz) crushed tomatoes
Preparation
Chop the onion and sautee it in coconut oil until soft
Then add chopped kale and cook for 2 minutes
Add a drained can of white beans (15 oz) and a can of crushed tomatoes
Cook for a few minutes, then add 2 cups of water
Bring to a boil, add ½ tsp salt plus and a little cayenne pepper
Simmer for 10 minutes, then serve
The soup is thick, but I like it that way. You can add more liquid or more tomatoes or beans to taste. It goes great with corn bread (not to mention the beans and grain would make up a complete protein.)
It takes hardly any time to make this soup, and I couldn't stop eating it!
Read more
Simple Care, Luminous Skin