Dry Skin Brushing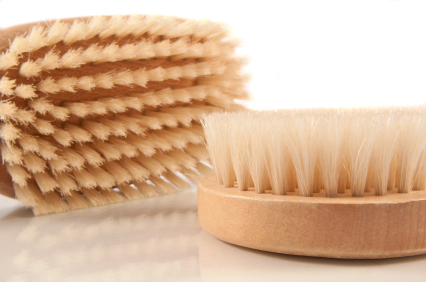 Dry skin brushing is a terrific way to exfoliate your skin. It works for all over the body, except the face, neck and decollete. There is no need for a body scrub. A skin brush does the job perfectly.
Benefits Of Dry Skin Brushing
Look & feel better right away

Boost energy

Remove dead skin cells

Support immune system
Dry Brushing Is Key
It's important to make sure your skin and the brush are both dry when you do your brushing. Brushing wet skin can cause it to stretch. That is totally out of bounds! A good time for it is right before you shower.
How To Dry Brush Your Skin
Use a long-handled brush.

Start from the feet and work upwards

Lightly brush all over your body

The strokes should be in the direction of your heart

Avoid any sore or sensitive skin and don't brush your face, neck or chest

It should take about two minutes
What Dry Skin Brushing Does
– Opens the pores

Skin is designed to expel toxins. It is our largest organ of elimination. But often, the pores get clogged. Dry skin brushing re-opens this vital detoxification channel.

– Tones the skin

Dry skin brushing removes dead skin cells and stimulates circulation, leaving skin invigorated and glowing.

– Movies lymph fluid, Supports immune system, Builds vitality

Lymphatic channels just beneath the skin carry cellular byproducts out of the body. The lymph system is activated by your breathing, as well as by vigorous exercise. Skin brushing moves the lymph and builds your vitality by moving toxins out of your body.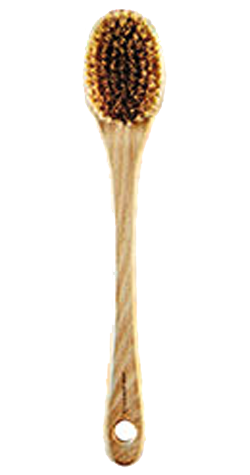 It's Free!
Dry skin brushing will improve your skin tone and enhance your vitality, and, once you've got a brush, it's forever free.
Related Articles
The Best Exfoliant For Dry Skin
How To Tell If You Are Exfoliating Too Much
Simple Care, Luminous Skin