Safflower Oil
Safflower oil is an ideal carrier oil. Creams, lotions, cleansers and body oils are based on carrier materials. They typically make up a large part of skin care products. You can see what carriers have been used by looking at what comes first in the ingredient list. Safflower oil is a good ingredient to find there.
Health Benefits Of Safflower Oil
Safflower oil is packed with gamma-linolenic acid (GLA), a fatty acid that helps to maintain hormonal balance and relieve menstrual discomfort while providing nutritional support against osteoporosis. That is why GLA has been called "the woman's essential fatty acid," and why safflower oil is commonly taken as a supplement.
It also contains high amounts of vitamin E, a natural anti-oxidant and cell-builder.
Beauty Benefits Of Safflower Oil
When used on the skin, safflower oil locks in moisture at the same time as it lets the skin breathe.
And it has virtually no scent. Here's what safflower oil can do for your skin:
– Provides deep moisture
– Reduces fine lines
– Plumps skin cells for a smooth complexion
– Heals and nourishes dry, flaky skin
– Helps prevent skin cells from breaking down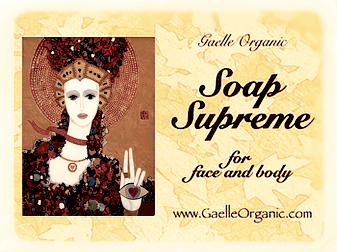 Gaelle Organic
At Gaelle Organic we use more organic safflower oil in our moisturizing cleanser than any other ingredient. We "super-fat" our formula so that the fatty acids remain in the finished product, giving it moisturizing as well as cleansing properties.
Organic safflower oil is good for you whether you eat it, or whether you put it onto your skin.
Related Articles
The Best Anti-Aging Moisturizers
Why Organic
Beautiful Skin Is Simple
Simple Care, Luminous Skin