Colostrum is a natural wonder for sensitive skin. It can relieve rashes, irritation, redness and stubborn skin conditions like nothing else.
I have been experimenting with colostrum skin cream for a year and have been amazed by the results. People have gotten immediate relief from difficult, persistent conditions. One person had skin on his elbows so sore that for years he had been unable to rest his arms on a desk. He had tried everything to soothe his skin, including prescription medications, but to no avail. Colostrum helped immediately. His discomfort disappeared overnight. Now, where he had bleeding sores, he has just some residual redness.
I've seen the same results, over and over, with other skin conditions. So when I formulated my moisturizer for sensitive skin, I included a lot of colostrum!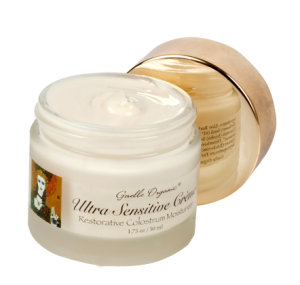 Colostrum is the first fluid that mammals secrete when they give birth. It is how mothers transfer their immune system to their babies. Fortunately, colostrum from cows is many times stronger in immune factors than human mother's milk, and it is effective in all mammal species – including us.
But not all bovine colostrum is created equal. The time it is collected is critical. The very best colostrum is secreted in the first 6 hours from birthing. After that, its potency diminishes. And the health of the donor is important – grass fed animals, free of antibiotics and growth hormones – are a must. Then there is how the product is collected and processed. One of the key things to look for is the guarantee that it omes from those crucial first 6 hours of super potency (and don't worry, there is always more than enough for the calves themselves!)
The benefits of colostrum extend across a whole spectrum of health conditions. It is an anti-aging beauty food, for sure! I recommend you look into it if you have any health issues. And if you have redness, rashes, irritation, or frequent breakouts, you will likely find colostrum a godsend for your skin.
About glk:
Simple Care, Luminous Skin